Welcome aboard.
If this is your first visit, allow me to introduce myself. I was born and raised in New York City, and retired from the U.S. Navy with the grade of captain. In my final assignment, I held the post of Chief of Public Information for NATO's southern European command, headquartered in Naples, Italy. Since retiring, I've written several novels, a guide for authors wishing to self-publish, and a children's Christmas story, as well as developing and co-producing the MGM/Showtime drama The Silver Strand featuring Nicolette Sheridan and Gil Bellows.

Feel free to read my short story, The Bonus, by clicking the upper left link.

My most recent novel, Saving Leo Kleinman, is the second work featuring NCIS cold case agent and feng shui enthusiast Jerzy Shore. Unlike the first, where Jerzy is tasked to determine whether a 20-year-old death was an accident or murder, he must now prevent a murder before it happens. With little more to go on than a chain of anonymous letters, Jerzy must discover a connection between two seemingly unrelated events occurring nearly twenty years apart. And he must do so before the mysterious letter writer succeeds in having Leo Kleinman killed.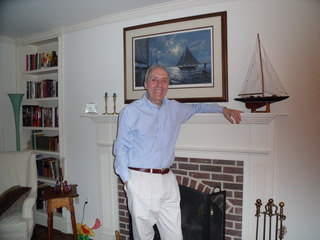 Before reading Saving Leo Kleinman you may wish to read NCIS Agent Jerzy Shore, both are available in paperback and eBook. In it, the star cold case sleuth and feng shui enthusiast finds himself an unwitting player in a high stakes game of political poker when the decades-old death of Midshipman Jeff Resnick suddenly becomes a hot item among the Navy's top brass. Yet, all might go well for the unassuming agent but for two major distractions, Captain Carol Rutter, Resnick's former Naval Academy schoolmate and key player in unraveling the mystery, and the elusive stranger hellbent on killing him.

We The People and SEAL~Test, featuring Navy SEAL Duke Sampson, are compelling tales of murder, deception and political intrigue.

Alma's World, a convoluted murder mystery featuring Molley Moore, takes the reader to the seemingly idyllic town of Romney, West Virginia, where life is not as simple as it appears.

King of the Hill traces Julius Caesar Vittorio's mob ties and his ambitious rise in the rewarding and often dangerous world of organized crime.


Random comments from readers:
"Vercessi clearly knows how to write an exciting and entertaining book. I marvel at his ability to create his characters." Tom (Annapolis, Maryland)

"I absolutely loved reading Saving Leo Kleinman. Now, I'm telling myself to go slow reading NCIS Agent Jerzy Shore, to get as many lovely reading days out of it as possible." Rona (Olbia, Sardinia)

"Just finished Saving Leo Kleinman. Your best yet. Liked the flow and the surprises. Good prison stuff, believable characters and action." John (Thousand Oaks, California)

"Enjoyed Saving Leo Kleinman. I was impressed with your character development... and suspenseful plot twists and turns. Well done!" Diana (Springfield, Virginia)

"I found Saving Leo Kleinman a much better read than James Patterson's NYPD RED for many reasons, including that you simply write better." Richard (Niantic, Connecticut)

"I read NCIS Agent Jerzy Shore in one sitting. You have the right amount of humor, action and suspense." Phil (McLean, Virginia)

"I loved Alma's World. No way I guessed the outcome. I loved Molley and Ruby. Send the book to Hollywood!" Vi (North Chelmsford, Massachusetts.)

"Why isn't SEAL~Test a movie?? Gripping from the get-go, I couldn't put it down." Nina (Istanbul, Turkey)

"Vercessi's handling of military traditions, covert ops and desperate actions is superb. We the People is an easy book to read, but not easy to put down." Bob (Naples, Florida)

"You have a gift for character and convincing dialogue. I look forward to reading more of your work." David (New York)